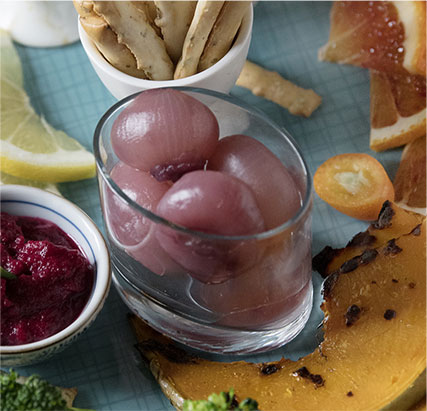 Giardiniera 'pickled veggies'
Giardiniera is the Italian way of saying pickled vegetables, or verdure sottaceto, "vegetables under vinegar." Giardiniera can be eaten with salads, is often served with boiled meats and is always part of the antipasto platter together with cured meats, cheeses and row vegetables.
Ingredients (for 8)
1/2 medium head cauliflower
2 medium carrots
2 stalks celery
1 medium red bell pepper
500 ml good quality white wine vinegar
250 ml water
2 bay leaves
Salt
1 tablespoon granulated sugar
1 pack of Mini Grissini with Rosemary
Preparation time: 15 mins + 1 hour at least for marinating
Cooking time: 10 mins
Procedure
Cut the cauliflower into bite-sized pieces. Peel 2 carrots and thinly slice them crosswise on a slight diagonal and do the same thing with the celery.
Chop 1 red bell pepper into small pieces.
Bring to a boil the wine vinegar, water, 1 tablespoon coarse salt, 1 tablespoon granulated sugar, and 2 bay leaves in a medium saucepan over medium-high heat.
While simmering, add the cauliflower and carrots, and simmer for 2 minutes. Add the celery and red bell pepper and simmer until all the vegetables are crisp-tender, about 2 minutes more. Remove the saucepan from the heat.
Cover the saucepan and let the vegetables marinate in the vinegar solution for 5 minutes.
Meanwhile, prepare the marinade.
Transfer 2 tablespoons of the vinegar solution to the bowl of olive oil. Whisk until combined and emulsified with 120 ml of olive oil. Drain the vegetables through a strainer or colander, then add them to the marinade. Toss well to combine, then set aside until cool to room temperature, about 20 minutes. Cover with plastic wrap and refrigerate.
Leave to marinate for at least 1 hour and up to 1 day before enjoying cold or at room temperature. Toss again before serving.
The giardiniera can be stored in an airtight container in the refrigerator for up to 1 week.
Add fresh vegetables like carrots, radicchio, fennels, and taste with bioeko Organic Mini Grissini with Rosemary!