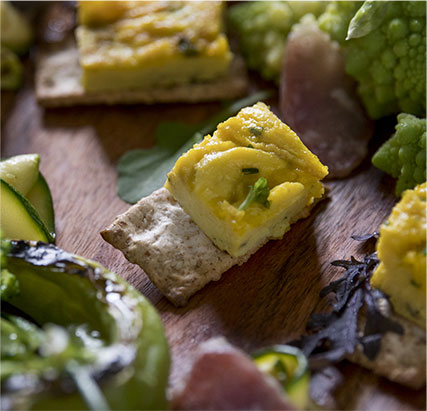 Organic crackers with sesame and frittata with aromatic herbs
Do you want a second appetizing and very quick to prepare? Here is the recipe for a delicious omelette, scented with aromatic herbs and flavored with gorgonzola.
Ingredients (for 4)
5 spring onions
6 eggs
2-3 tablespoons of chopped herbs (thyme, chive, basil, parsley)
80 g of gorgonzola cheese, diced
extra virgin olive oil
salt
pepper
bioeko Organic Crackers with Sesame
Preparation time: 10 mins
Cooking time: 5 mins
Procedure
Remove the upper part of the spring onion, discard it (you can use to make a broth) and slice finely. In a 20cm pan, cook spring onion with 4 tablespoons of extra virgin olive oil and a pinch of salt over low heat, without browning.
Beat the eggs in a bowl, adding the chopped herbs and gorgonzola. Salt and pepper. Pour the mixture over the onion and raise the heat. Cook the frittata moving the part of the edge that slowly grows, towards the center.
Cover the pan with a lid for the last minute of cooking, turn off the heat, leave to rest the frittata in the pan for a minute time and then slide into the serving dish and serve together with bioeko Organic Crackers with Sesame!