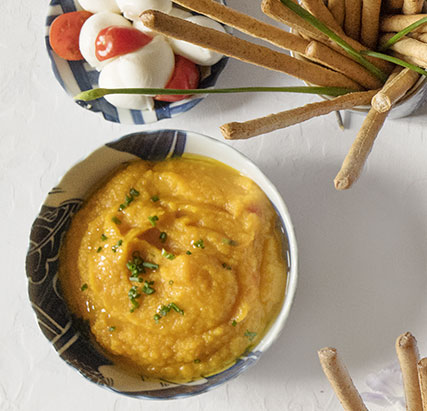 Dips with squash and bioeko sesame grissini
All the sweetness of pumpkin for a delicate cream, made slightly spicy by the gorgonzola.
Ingredients (for 6)
1/4 onion, medium size
600 g butternut squash
2 teaspoon fresh thyme leaves
70 g gorgonzola cheese (or any blue cheese)
20 g butter
2 tablespoons extra virgin olive oil
Salt
Pepper
Grissini al sesamo bioeko
Preparation time: 10 mins
Cooking time: 20 mins
Procedure
1. Chop finely the onion
2. Cut the butternut squash into chunks.
3. Cook onion in a saucepan with olive oil, over small heat, stirring continuously.
Add butternut squash, a pinch of salt, and 100 ml water.
Cover with lid and cook for about 20 minutes, until tender, adding water if necessary.
4. Salt and pepper to taste.
5. Blend adding butter, thyme and gorgonzola cheese.
Tips: You can replace gorgonzola cheese with taleggio cheese or fresh goat cheese.