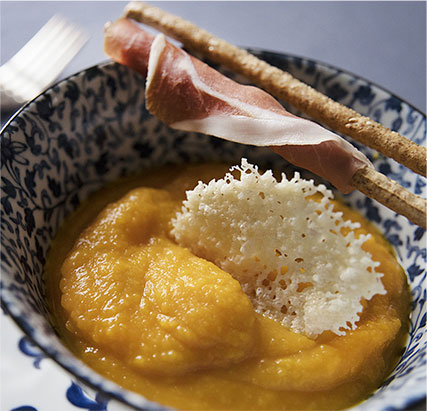 Roasted butternut squash soup
A surprising soup, yellow like the sun and very tasty. Pumpkin is the protagonist.
Ingredients (for 5)
1 large butternut squash (1.2 Kg), halved vertically, seeds removed
1 small onion, finely chopped
750 ml to 900 ml vegetable broth, as needed
20 g good quality of butter, to taste
Extra virgin olive oil
Salt
Freshly ground black pepper, to taste
One pack of bioeko Organic Breadsticks with Sesame
Grana padano cheese crisps (see recipe)
Preparation time: 15 mins
Cooking time: 55 mins
Procedure
Preheat the oven to 420°F.
Line a rimmed baking sheet with parchment paper. Place the butternut squash on the pan and drizzle each half with 1/2 tablespoon of olive oil, coating the whole vegetable and sprinkle with salt and pepper.
Turn the squash face down and roast until it is tender and completely cooked through, about 40 to 50 minutes. Remove from the oven and let cool, then scoop out the pulp with a large spoon.
In a large soup pot, warm 2 tablespoons olive oil over medium heat and add the chopped onion and 1 teaspoon salt. Cook, stirring often, until the onion is translucent. Add the cooked squash and pour in 250 ml of vegetable broth, then transfer to a blender, slowly adding the rest of the vegetable broth. Return the soup to the pot, add butter (or olive oil) and season with salt and pepper.
Roll the prosciutto di Parma slices around the bioeko Organic Grissini with Sesame. Serve the soup with Grana Padano cheese crisp and grissini.